Ashland County Fair
September 20, 2017
Come one, come all, it's fair time again!! The 166th Ashland County Fair opened on Sunday, September 17th and will end on Saturday, September 23rd. Get there while you can! General admission is $5 and kids 10 and under get in free! (Membership pass: $20, Season pass: $20)

The Ashland County Fairgrounds are located at 2042 Claremont Ave, Ashland, OH 44805.
Come eat elephant ears, fried oreos, kettle corn, and drink classic lemonade. Scream on the fun and thrilling rides. Visit the barns and see the cows, chickens, bunnies, and goats. But what else is happening at the fair this year?
Today is Ladies Day at the Fair with programming beginning at 10am. There is also a Lawn Mower Derby and Truck Pull at 6pm.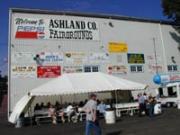 Grandstand events
9/20 Lawn Mower derby/truck pull
9/21 Motocross
9/22 Ashland County Stock Tractor pull
9/23 Demolition Derby
Visit http://ashlandcountyfair.com/ for a full fair schedule.
« Back to Blog