Antlers & Anglers
March 14, 2017
Ashland's Armstrong Cable is putting on an awesome event this weekend- Antlers and Anglers!
Here are the details: It is located on the Ashland County Fairgrounds (2042 Claremont Avenue) and will take place Saturday March 18th from 10-4 and Sunday March 19th from 11-4. The cost to get in? Two "bucks" ($2) or two non-perishable food items.
The goal is to get out and do something with the kids. All age groups are welcome and the first 100 kids Saturday and Sunday will receive a drawstring backpack from the Outdoor Channel!
We want to celebrate the great outdoors. From hunting and fishing to hiking and water sports, Antlers and Anglers has something for every outdoor enthusiast! This event will feature vendors, seminars, demonstrations, pro staffer presentations, food, prizes, and contests!
I talked to Sandy Burkholder, Armstrong Office Manager and Community Marketing Manager, to find out more about Antlers and Anglers!
Why does Armstrong host this event?
Sandy: "The event benefits our on-going initiative called Breaking Bread, a program that collects non-perishable food items and donations for our local food pantries."
Why is it beneficial to Ashland?
Sandy: "It's a great opportunity to recognize what's in our own backyard. It's also about sportsmanship and managing and protecting our outdoor treasures."
What can the people of Ashland look forward to?
Sandy: "Joe Thomas from the Outdoor Channel will be doing fishing demonstrations (Saturday only). Joe will have his Outdoor Channel truck and trailer with him as well. Gun safety for kids, CCW briefing and self-defense class, kids fishing pond, Mohican Naturalist, Lisa Durham, kids archery range, chainsaw carving demos (Saturday only), Charcoal Mafia BBQ and Mitchell's Orchard too. Wildlife cooking demonstrations, Ohio Bird Sanctuary, Donley Ford, Fin Feather and Fur, K-9 unit, bomb squad, JG Kettle Corn, Bill Harris Chevrolet, Tuffy from AU, and much more!"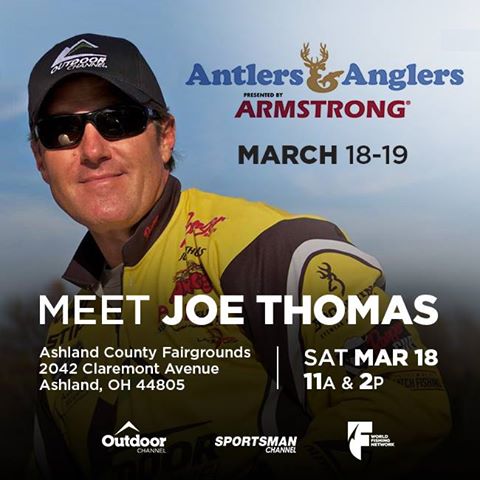 For more information, please contact:
Sandy Burkholder at 419.289.0161 Ext. 50610 or sburkholder@agoc.com
You can also visit the Antlers and Anglers Facebook event page!
All proceeds will be donated to Associated Charities – Food Bank.
« Back to Blog